Artist´s statement
Thoughts are free... -
If we allow them to be
However, they quickly end up in drawers whose keys we may easily lose. But we need open thoughts, creative ones, ones that make us curious and challenge us, including those that make us happy. My art can be a key to this.
Large format, expressionist, abstract.
The exploration of organic structures and elements carves its details into the surfaces of my artworks. For that to happen, I apply the paint in an unconventional manner, layering oil paint and pigments so that they react with one another. Scraping off the paint with wooden tools is also part of my technique. In this way, I try to expose what is hidden and place elements in an unexpected context. I want to arouse the viewer's curiosity and invite them to take time to experience my art.
The variety of possibilities can free our thoughts from the familiar. This stimulates creative thinking. The viewer is allowed to follow their associations and creates a new world that can serve as a source of strength and energy. My art is meant to encourage people to approach the unknown in an open-minded, positive way.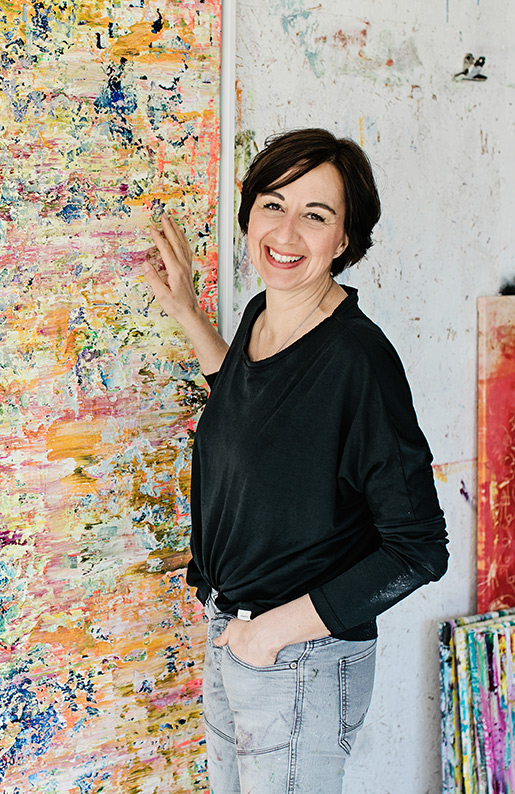 Biography
Tanja Thordsen, self-taught artist, was born in 1974 in Niebüll, Schleswig-Holstein. She currently lives and works with her family in Großenwiehe (Schleswig-Holstein) and Hamburg. Her work as an art therapist, her studies of geography and biology testify to her wide-ranging interests and varied knowledge, which she constantly strives to expand. Not least through traveling the world.

The artist's positive attitude is reflected in her expressionistic and colourful visual language. Her fascination with art started at a young age – she would walk around equipped with pen and paper, always ready to depict her world. Inspired by great masters such as Gerhard Richter and Larry Poons, she found the way to oil painting and made this method her own. However, she changed it more and more over the years and has now developed her own technique. Tanja Thordsen decided to devote herself entirely to art in 2011 following an accident in the family.

You will find the artist's paintings in international exhibitions, in private collections around the world, as well as in the gallery of Schloss Weissenhaus, an awards-winning premium resort in the town of Wangels on the Baltic Sea.